26th February 2020
Jeff Wayne's The War of The Worlds Returns to Arenas 2021
LONDON, UK (28 Feb, 2020) – One of the most trailblazing arena tours of all time, Jeff Wayne's Musical Version of 'The War of The Worlds' - Alive on Stage! returns to arenas throughout the UK & Amsterdam in 2021.
Tickets are on sale now via our website.
Based on HG Wells' dark Victorian tale, it remains a firm favourite to millions around the world, exciting audiences of all ages.
In 2006 TWOTW was considered a cutting edge production with six trucks filled to the brim. But in 2021, which marks a momentous 15 years of live touring, the production will be up to 12, and with it, a host of ingredients and special effects that will challenge and excite the senses.
A stellar cast will be announced soon.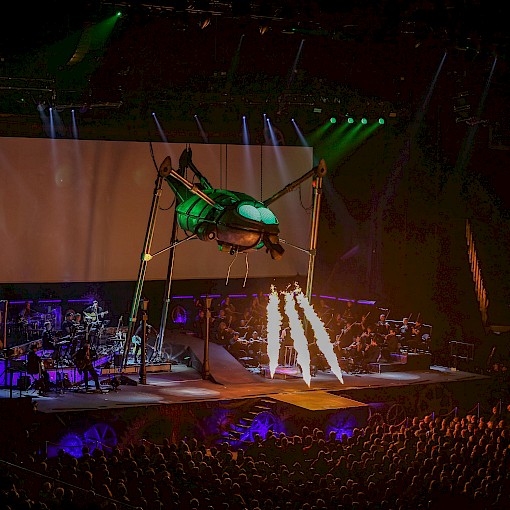 2nd January 2020
Jeff Wayne's The War of The Worlds: The Immersive Experience Extended Until August!
Since its launch in May, the Immersive Experience of Jeff Wayne's epic 1978 Musical Work has delighted and amazed 1000s of guests and has firmly established itself as one of London's leading experiences – with a 92% TripAdvisor rating for Excellent or Very Good as well as widespread critical acclaim.
We're now very excited to announce that we've released tickets until August 2020 due to the phenomenal demand. The Layered RealityTM experience combines cutting-edge technology (virtual reality, augmented reality and volumetric holograms) with live performances and stunning surroundings – all set to HG Well's dark Victorian tale and Jeff Wayne's iconic Musical Work.
20th November 2019
EXCITING CHRISTMAS ANNOUNCEMENT
Martians get a bad rap, but they love Christmas too!
To celebrate the lead up to the festive season, we've released a limited edition of 2000 Martian-themed Christmas cards, on-sale now via our website shop.
Each card has it's own unique number on the back, making it the perfect Christmas card for any TWOTW fan or collector.
Each design is available to purchase separately for £3.50 including a single envelope. Or if you can't choose your favourite design, they're available in a set of twelve containing three of each, and twelve envelopes for just £20.
Sprinkle some Martian dust on your Christmas this year. ULLA.